Dell iSCSI SAN Storage

File-Level Storage Over Your Network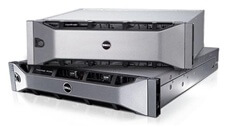 Internet SCSI (iSCSI) SAN — One or more disk storage arrays connected via 1/10Gb Ethernet switches to servers using the TCP/IP-based iSCSI standard protocol.
The Dell PowerVault™ MD makes that choice obsolete with a family that can enable efficient storage management and ensure high availability. The Dell PowerVault MD family offers a range of options to fit your needs functionality and budget needs: the MD3200i SAN array for iSCSI storage consolidation, the MD3200 disk storage array for highly available Direct-Attached Storage (DAS), the MD1120 expansion enclosure for high-performance applications, and the PowerVault MD1000 expansion enclosure for high-capacity applications.
The PowerVault MD family features a suite of intuitive, intelligent storage management software applications. Dell OpenManage™ Storage Management for MD1000 and MD1120 provides a comprehensive set of standards-based tools to optimize deployment, monitoring, fault recovery and change management. The Modular Disk Storage Manager for the MD3200 and MD3200i combines an intuitive interface and a task-based management structure to reduce complexity.
Key Benefits
Range of options to fit various needs
Comprehensive software tools that simplify management and reduce complexity
Designed for budget efficiency
iSCSI SAN Storage Models

Entry-level storage consolidation for high-availability virtualized environments that need higher capacity solutions.

Twelve 3.5" SAS, NL-SAS and SSD drives in a 2U enclosure
Implement your storage area network (SAN) on cost-effective Ethernet networks.
Choose from available single and dual controller models.
Mix and match drives to create a tiered-storage environment.
Scale up as you grow, supporting a base configuration of 120 hard drives, with an optional upgrade up to 192 hard drives.
Supports up to 32 physical servers when connected to one or more Ethernet switches

Entry-level storage consolidation in high-availability virtualized environments with increased density and higher performance requirements.

Twenty-four 2.5" SAS, NL-SAS and SSD drives in a 2U enclosure
Implement your storage area network (SAN) on cost-effective Ethernet networks.
Choose from available single and dual controller models.
Mix and match drives to create a tiered-storage environment.
Scale up as you grow, supporting a base configuration of 120 hard drives, with an optional upgrade up to 192 hard drives.
Supports up to 32 physical servers when connected to one or more Ethernet switches

Meet escalating performance demands for consolidation and server virtualization and support up to twelve 3.5" drives (SAS, near-line SAS and SSDs).

Twelve 3.5" SAS, NL-SAS and SSD drives in a 2U enclosure
Scale up to 192 total hard disk drive storage capacity with PowerVault MD1200 and/or MD1220 enclosures, enabling a customizable and expandable tiered-data environment with mixed drive types
Available in single or dual-controller models

Offer exceptional performance, flexibility and scalability and support up to twenty-four 2.5" drives (SAS, near-line SAS and SSDs).

Twenty-four 2.5" SAS, NL-SAS and SSD drives in a 2U enclosure
Scale up to 192 total hard disk drive storage capacity with PowerVault MD1200 and/or MD1220 enclosures, enabling a customizable and expandable tiered-data environment with mixed drive types
Available in single or dual-controller models