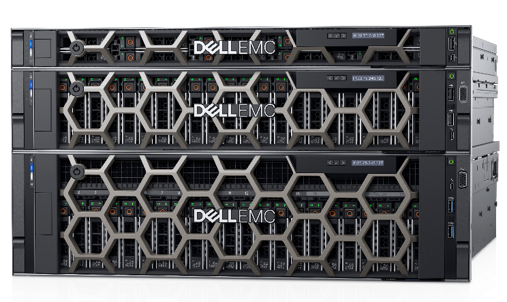 One Socket Servers (Supports 1 Processor)
One-socket (single CPU) rack servers offer a cost-effective balance of performance and storage capacity to make IT easy. Designed to easily grow and evolve with your business.
Two Socket Servers
Two-socket (dual CPU) rack servers offer a wide variety of features to accommodate more demanding workloads. Offered in price and performance configurations to suit most environments.
Four Socket Servers
Four-socket (four CPU) rack servers are the workhorses of the data center, offering the highest performance for the most demanding workloads like data analytics, AI and GPU database acceleration.
---
Rack server solutions built to help you innovate, adapt, and grow
Our newest PowerEdge rack servers are designed to address your most challenging workloads, working autonomously and collaboratively across all your IT environments. Paired with our OpenManage integrated IT management system, PowerEdge rack servers include our most powerful automation and reporting features yet – freeing you to focus on growing your business.
Adaptive Compute
Address evolving compute demands with a highly scalable platform engineered to optimize the latest technology advances across processors, memory, networking, storage, and accelerators.
Autonomous Compute Infrastructure
Respond rapidly to business opportunities with intelligent systems that work together and independently, providing real-time insights based on a comprehensive, customizable view of system performance.
Proactive Resilience
Embed trust into your digital transformation with an infrastructure designed for secure interactions and the capability to predict potential threats.