Dell ECS EX5000

The ideal high density, low TCO, multi-purpose appliance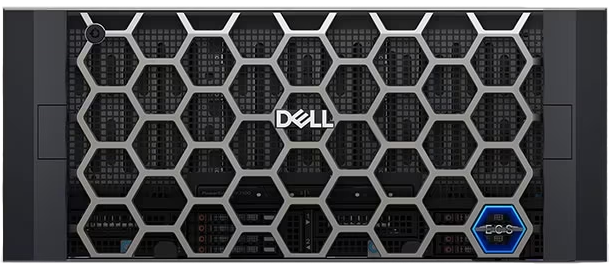 Sorry, this product is no longer available, please contact us for a replacement.
Overview:
Dell EMC ECS is a software-defined, cloud-scale, object storage platform. With ECS, any organization can deliver scalable public cloud services with the reliability and control of a private-cloud infrastructure. ECS provides comprehensive protocol support for unstructured—object and file—workloads on a single modern storage platform. Using ECS, organizations can easily manage globally distributed storage infrastructure under a single global namespace with anywhere access to content. ECS features a flexible software-defined architecture that is layered to promote limitless scalability. Each layer is completely abstracted and independently scalable with high availability and no single points of failure. ECS also comes in a fullyintegrated turnkey appliance that bundles software and Dell PowerEdge servers into an easily deployed object system.
ECS is currently in its third generation of hardware appliances, the EX-Series, building on the legacy of the EMC Centera and Atmos object storage platforms that predated ECS. The ECS EX-Series is comprised of three unique hardware products: EX500, EX5000 and the all-flash EXF900.
ECS EX500: The perfect blend of economy and density, the EX500 is a versatile option for midsized enterprises looking to support either modern application or deep archive use cases. It's the ideal sandbox for in-house, cloudnative, mobile and web application storage. Rack capacity ranges from 120TB to 7.68PB.
ECS EX5000: A high density, hot disk-swappable, object storage system, the EX5000 packs up to 14.0PB per rack and can grow into exabyte-scale with ease. It's an ideal platform for long-term retention, storage consolidation and multipurpose object storage requirements that span S3, HDFS and archive workloads.
ECS EXF900: Built with NVMe-based SSDs on Dell PowerEdge servers, the EXF900 appliance delivers extreme performance at scale for modern workloads such as AI, machine learning, IoT and real-time analytics applications. Capacity begins at 230TB and scales up to 5.898PB per rack.
Unstructured data is at the heart of a digital future
Digital and IT modernization are revolutionizing the way organizations across the globe conduct business. From fueling Internet of Things initiatives, to delivering more immersive customer experiences, enterprises are gearing up to embrace a new digital reality. According to IDC, "Within the next four years, the global economy will finally reach 'digital supremacy,' with more than half of GDP driven by products and services from digitally transformed enterprises.
While this digital future promises to unlock new value for organizations, much of the value is hidden within unstructured data—images, videos, social media data, internet traffic, etc. Organizations require a cost-effective means to store, analyze and serve unstructured data to enterprise applications. Due to its massive scalability, simplified architecture and easyto-use APIs, many are turning to object storage systems to help them achieve their goals.
Organizations need more than the public cloud alone
In the early days of the cloud hype-cycle, countless organizations turned to public clouds, believing them to be the remedy for all their unstructured data storage needs. However, when it comes to data management and storage, making use of cloud object storage platforms such as Amazon S3 or Microsoft Azure Blobs involves navigating fundamental tradeoffs in the areas of data residency, compliance with regulatory standards, as well as unforeseen costs that are often detailed in fine print.
While public clouds inarguably have a central role to play in an organization's overall IT strategy, they are not without their limitations. In fact, approximately 83% of organizations have reported cloud repatriation activities, 64% have a higher total cost of service(s) than anticipated,and 34% have repatriated workloads due to data security issues.This is why establishing sound multi-cloud and private cloud strategies is critical to the future success of organizations across every industry.
Introducing Dell EMC ECS: Enterprise object storage
Dell EMC ECS, an enterprise-grade object storage platform, empowers your organization to flexibly capture, store, protect and manage unstructured data at public cloud-like scale, all within the confines of your organization's data center.
Deployable as a software-only model or a turnkey appliance, ECS boasts unmatched scalability, performance, resilience, and economics to meet the demands of modern business. As an S3-compatible, globally scalable object store, ECS delivers the capabilities of the public cloud with the command and control of a private cloud infrastructure. Use ECS to develop cloud-native applications, build exabyte-scale archives, fuel strategic analytics initiatives and meet strict regulatory standards, all at a lower total-cost-to-own.
Cost-effective at scale
Build an object storage cloud with up to 59.5% lower TCO
Fast S3 for modern apps
Support modern workloads with high performance, S3- compatible storage
Enterprise proven
Deploy with confidence using best-in-class technology and services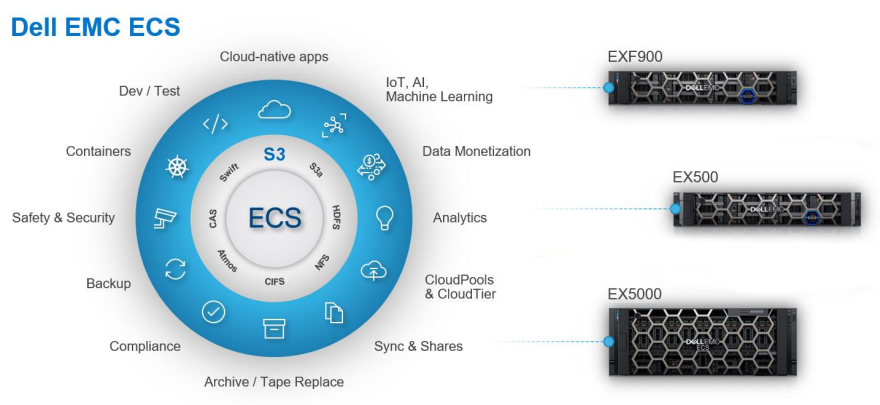 ---
Pricing Notes:
Pricing and product availability subject to change without notice.