Dell EMC VMAX 250F

All Flash Mission-Critical Storage
Dell Storage Products
Dell EMC All Flash Mission-Critical Storage
Dell EMC VMAX 250F All Flash Mission-Critical Storage
#VMAX-250F
Get a Quote!
Click here to Jump to Pricing!
Overview:
The exciting Dell EMC VMAX All Flash family offers the VMAX 250F and VMAX 950F arrays. The VMAX 950F delivers unparalleled performance and scalability as a mission-critical multi-controller platform utilizing Intel Xeon E5-2697-v4 18 core processors running at 2.3GHz. With the highest capacity 7.68 and 15.36TB Enterprise Flash drives, and Dual V-Brick/cabinet packaging this new Enterprise class array offers a compelling value proposition designed for the most demanding storage workloads, including new support for Mixed Mainframe and Open Systems hosts. Like all members of the All Flash family, your data always resides in the fastest possible tier (Diamond) to deliver the highest IOPS throughput and lowest possible latency. PowerMaxOS with service levels is an attractive option for VMAX All Flash customers.
VMAX All Flash arrays extend the long tradition of VMAX Reliability, Availability and Serviceability that our customers have come to expect. A single V-Brick is architected to provide six-nines (99.9999%) of Availability in the most demanding, mission critical environments. Ranging from 1 to 8 V-Bricks packaged in dual V-Brick racks along with their associated DAEs, the VMAX All Flash family offers unprecedented scale and footprint efficiency. The built-in hypervisor enables VMAX All Flash to offer unified block and file support through Embedded NAS (eNAS), as well as Embedded Management.
VMAX All Flash arrays are available in two software packages, the standard "F" package and the application rich "FX" package, which makes ordering easy. The FX package includes licensed support for SRDF S/A/STAR/Metro, Data at Rest Encryption, eNAS, and both include VASA Provider Certified support for vVols, and Secure Snaps, a SnapVX feature eliminating the ability for admins to delete snapshots. VMAX All Flash arrays also offer the optional support for RecoverPoint for heterogeneous replication with Dell EMC arrays. As always, VMAX All Flash arrays come fully pre-configured out of the factory to significantly shorten the time to first I/O.
Mission-Critical Storage at Scale
All flash arrays are accelerating the pace of business transformation as IT professionals search for the most relevant technologies to modernize their operation and drive down operational and capital expenditures. As flash prices rapidly decline, capacity points exceed spinning disk, and data reduction techniques advance, more organizations are evaluating, testing, and deploying all-flash solutions to tackle the most demanding mixed workloads that span across the modern datacenter.
Dell EMC VMAX All Flash arrays are architected to solve the CIO challenge of embracing a modernized flash-centric datacenter for mission- critical applications while simultaneously simplifying, automating, and consolidating IT operations. VMAX All Flash is engineered for the latest, high density flash technology and to specifically exploit the rich set of data services of VMAX All Flash. These data services address the new requirements of the modern datacenter while continuing to deliver the reliability and mission-critical availability Dell EMC customers have relied on for years.
Scalable Performance
Leverage advanced multi-core/multi-threading algorithms and a flashoptimized design to meet strict SLAs for high-demand onlinetransaction processing (OLTP), virtualized applications, and high-growth Oracle and SQL databases
Scale out performance and scale up capacity to achieve millions of IOPS, PBs of capacity, and predictable performance (350 microsecond response time)
Mission-Critical Availability
Mission-critical availability architecture with advanced fault isolation,robust data integrity checking, and proven non-disruptive hardware and software upgrades
Six-nines availability for 24x7 operations
SRDF software, the goldstandard for multi-site remote replication and DR
Hyper Consolidation
Achieve massive consolidation with support for mixed open, mainframe, IBM i, and file storage on the same system simplifying management and significantly lowering overall TCO
Consolidate multiple concurrent workloads and multi-PBs of capacity both on premise and through tiering to cloud storage
Essentials
Leverage advanced 3D NAND flash to consolidate high-demand transaction processing and decision support workloads
Achieve consistent 350 microsecond response times at massive scale for extreme-growth hybrid cloud environments
Process up to 6.7 million IOPS at sub-1ms latency with up to 576 CPU cores and multithreading technology
Accelerate time to deployment with streamlined appliance-based packaging and easy non-disruptive migrations
Leverage inline compression for new or existing VMAX data sets while maintaining high performance and operating all VMAX data services
Protect vital open systems and mainframe information at six-nines availability
Create hundreds of snapshots per volume to optimize decision support, application testing, and business analytics with TimeFinder SnapVX
Run rapid backup and restore for Oracle, SQL, Exchange deployments with Dell EMC ProtectPoint; backup directly from VMAX to Data Domain and eliminate app server overhead
Features:
Consolidation with Confidence
As one of the most reliable platform for cloud scale consolidation, VMAX All Flash enables organizations to grow, easily share, and cost effectively manage massive amounts of block, file, open systems, and mainframe storage. VMAX All Flash is the leader in maintaining consistently high performance levels while running thousands of mixed workloads concurrently on a single VMAX All Flash array—you'll be able to deliver predictable and responsive service, even at massive scale.
Purpose-Built for Extreme Performance
For enterprises that require petabyte-level scale, the VMAX All Flash is purpose-built to easily manage high-demand, heavy-transaction workloads while storing petabytes of vital data. The VMAX All Flash hardware design features the turbo-charged Dynamic Virtual Matrix Architecture that enables extreme speed and consistent sub-millisecond response time.
The VMAX All Flash architecture can scale beyond the confines of a single system footprint to deliver scalable performance where needed. It enables hundreds of multi-core Intel CPUs to be pooled and allocated on-demand to meet the performance requirements for dynamic mixed workloads. This is achieved though powerful multi-threading and the industry's first dynamic, user controlled core allocation so no workload is starved of resources.
The core element of VMAX All Flash is the V-Brick. Each V-Brick has one engine, two DAEs, and usable capacity with fully redundant components. Flash Capacity Packs are used to scale up to 4 PB. The VMAX All Flash scales by aggregating up to eight V-Bricks as a single system with fully shared connectivity, processing, and capacity resources. Each V-Brick supports up to 72 CPU cores for blazing-fast performance scaling to a maximum of 576 cores per array.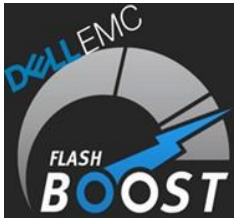 Flash-Optimized
Engineered for 3D NAND flash, VMAX All Flash outperforms solutions that offer flash drives as add-ons to traditional arrays that are designed for 15K RPM disk drives. VMAX All Flash eliminates bottlenecks with FlashBoost technology to deliver the high performance and the low latency for readintense OLTP applications, while leveraging huge write caching to drive down response times on heavy write workloads and greatly reduce write amplification.
VMAX All Flash arrays leverage the latest electronics and flash technology to super-charge the most demanding dynamic environments. Each VMAX All Flash model offers advanced 3D NAND flash, Intel Xeon multi-core processors, InfiniBand 56 Gb/s interconnect technology, PCIe Gen 3 I/O, and native 6 or 12 Gb/s SAS drive infrastructure.
Inline Compression
VMAX All Flash delivers a net 5:1 overall storage efficiency benefit for typical transactional workloads when inline compression is combined with snapshots and other HYPERMAX OS space saving capabilities. VMAX inline compression minimizes footprint while intelligently optimizing system resources to ensure the system is always delivering the right balance of performance and efficiency. VMAX All Flash inline compression is granular, performance optimized, and flexible.
Granular: VMAX All Flash compression operates at the Storage Group (application) level so customers can target those workloads that provide the most benefit. Compression can also be applied to existing data that was written prior to the availability of inlinecompression.
Performance optimized: VMAX All Flash is smart enough to make sure very active data is not compressed until it becomes less active. Thisallows the system to deliver maximum throughput leveraging cache and SSD technology, and ensures that system resources are always available when required.
Flexible: VMAX All Flash inline compression works with all data services including TimeFinder SnapVX, SRDF, embedded NAS, and encryption— something other vendors cannot deliver.
Every VMAX All Flash array is shipped with compression hardware and can take advantage of this capability. And Dell EMC even provides a 5:1 storage efficiency guarantee with VMAX All Flasharrays.
Unmatched Flexibility
VMAX All Flash offers leading performance density and packaging designed to reduce costs and fit all of your datacenter needs. Each VMAX 950F array can store up to 480 high-density drives and deliver a complete VMAX All Flash engine on a single floor tile— that's an industry first of up to 1.7M IOPS in a single rack. And VMAX 250F supports up to 1 PB of effective capacity in just half a rack, delivering 2 times the performance and 2 times the capacity in half the rack space compared with previous models.
For maximum agility, VMAX All Flash racks can be separated by up to 25 meters to avoid columns and other obstacles in a datacenter without a need to ever reserve empty floor tiles for future array growth. And all VMAX All Flash arrays support industry standard 19-inch racks and optional third-party racking to conform to your datacenter infrastructure.
Streamlined Software Packaging
VMAX All Flash arrays are built for simplicity and ease of ordering with appliance-based packaging that combines both hardware and software elements. VMAX All Flash systems ship with the F software package. Customers can easily add the FX package to deploy the higher value data services listed below.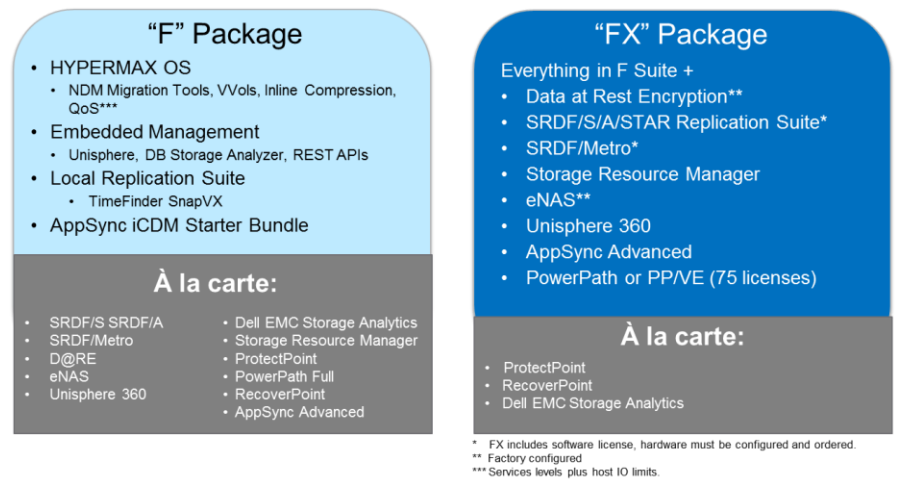 HYPERMAX OS and PowerMaxOS
VMAX All Flash leverages the industry's first open storage and hypervisor converged operating system, HYPERMAX OS and offers the option to run PowerMaxOS for advanced service level management. Each O/S combines industry-leading high availability, I/O management, quality of service, data integrity validation, storage tiering, and data security with an open application platform.
HYPERMAX OS features the first real-time, non-disruptive storage hypervisor that manages and protects embedded services by extending high availability to services that traditionally would have run external to the array. It also provides direct access to hardware resources to maximize performance. The hypervisor can be non-disruptively upgraded and supports embedded management and embedded NAS.
Scalable Management Across Arrays
Dell EMC Unisphere for VMAX is an intuitive management interface that allows IT managers to maximize human productivity by dramatically reducing the time required to provision, manage, and monitor VMAX All Flash storage assets.
Unisphere delivers the simplification, flexibility, and automation that are key requirements to accelerate the transformation to the hybrid cloud. For customers who frequently build up and tear down storage configurations, Unisphere for VMAX makes reconfiguring the array even easier by reducing the number of steps required to delete and repurpose volumes.
Unisphere 360 software aggregates and monitors up to 200 VMAX arrays across a single datacenter. This solution is a great option for customers running multiple VMAX All Flash arrays with embedded management (eManagement) and who are looking for ways to facilitate better insights across their entire datacenter. Unisphere 360 provides storage administrators the ability to view site-level health reports for every VMAX or coordinate compliance to code levels and other infrastructure maintenance requirements. Customers can leverage the simplification of VMAX All Flash management, now at datacenter scale.
iCDM with TimeFinder SnapVX
Integrated copy data management (iCDM) provides exceptional customer value by enabling application-consistent, on-array copy orchestration. TimeFinder SnapVX software features zero-impact snaps, simple user-defined names, faster snapshot creation/expiration, cascading, compatibility with SRDF, and support for legacy VMAX replication capabilities like TimeFinder Clone, VP Snap, and Mirror (emulation mode). SnapVX reduces replication storage costs by up to 10 times with its space-efficient snapshot technology, meaning it is optimized for cloud scale and enables expansion of up to 16 million snaps per array. Customers can create up to 256 snapshots and establish up to 1024 target volumes per source device, providing read/ write access as space-efficient snapshots or full clones. And customers can leverage secure snaps to prevent accidental or malicious snapshot deletion.
Dell EMC AppSync is an advanced copy management software application that integrates seamlessly with VMAX All Flash arrays to enable iCDM. It offers a simple way to create and consume local and remote copies of VMAX All Flash. AppSync delivers application consistency with critical applications like Oracle and VMware, enabling operational recovery and copyrepurposing.
Non-Disruptive Migration
VMAX non-disruptive migration enables existing VMAX 1 and VMAX 2 customers to migrate workloads live to a new VMAX All Flash or PowerMax array without taking the applications offline. This capability is built into the latest features and simplifies the migration user experience by reducing the number of steps required to migrate data by 65 percent.
Customers can now perform non-disruptive migrations on their own or leverage Dell EMC's exceptional professional services for more complex migrations. VMAX non-disruptive migration software makes VMAX techrefresh incredibly compelling for customers moving to the VMAX All Flash or PowerMax modern datacenter. Customers migrating from VMAX 1 or 2 arrays can even maintain SRDF/S and SRDF/A replication on the existing VMAX while migrating to VMAX All Flash or PowerMax arrays.
Data at Rest Encryption
VMAX All Flash Data at Rest Encryption provides hardware-based, on-array encryption, protecting block and file storage from unauthorized access when drives or arrays are removed from the datacenter. This technology eliminates the need for drive erasure services and allows for rapid decommissioning and repurposing of arrays, while helping achieve regulatory compliance. Encryption offers intelligent key management that is easy to implement and maintain. Administrators can leverage automated embedded key management since there is no manual user intervention required to manage VMAX encryption keys or leverage external Key Management Interoperability Protocol (KMIP) Enterprise Key Managers (EKM), which allows IT security managers to implement a centralized platform for managing cryptographic keys and applications. All VMAX data services are compatible with data at rest encryption.
Dynamic Host I/O Limits
VMAX All Flash Host I/O Limits (Quality of Service controls for VMAX) support defining limits to enforce service levels and make application performance even more predictable. Users can set maximum IOPS and/or throughput limits on a per application basis. VMAX All Flash automatically balances the limits across directors and ports and supports two levels of cascaded limitsto simplify performance management in multi-application, multi-tenant, and cloud environments.
Mission-Critical Availability
VMAX All Flash reliability, availability, and serviceability (RAS) make it the ideal platform for open systems and mainframe environments requiring mission-critical availability. These arrays are architected to provide six-nines of availability in the most demanding, mission-critical environments. VMAX All Flash availability, redundancy, and security features are listed below.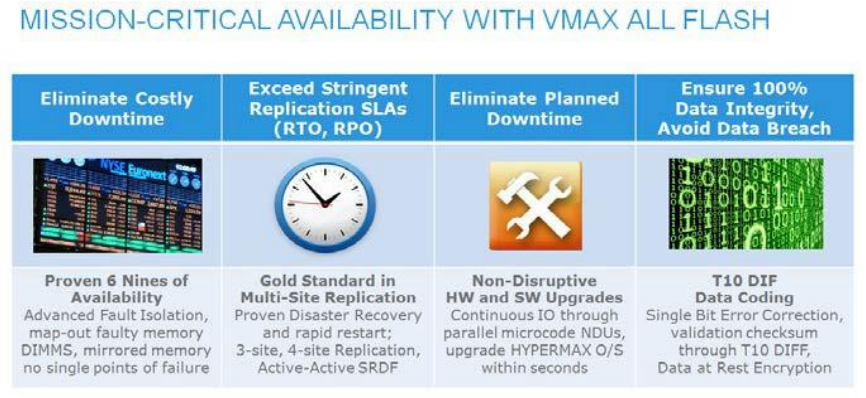 No single points of failure—all components are fully redundant to withstand any component failure
Completely redundant and hot-pluggable field-replaceable units (FRUs)to ensure repair without taking the system offline
RAID protection levels 5 and 6 to match different data protection requirements, with the RAID members distributed among power zones in disk array enclosures (DAEs) to assure high availability (HA) even if an entire power zone fails
Mirrored cache, where the copies of cache entries are distributed to maximize availability
Vault to flash (NVMe) with battery backup to allow for cache de-stage to flash and an orderly shutdown for data protection in the event of apower failure
Active-active datacenter replication via SRDF/Metro with read/write access to both Site A and Site B ensures instant data access during a site failure
Fully non-disruptive upgrades, including loading HYPERMAXOperating System software from small updates to majorreleases
T10 DIF data coding, with extensions for protections against lost writes and SnapVX secure snaps to prevent accidental or malicious snapshot deletion
Extensive fault detection and isolation, allowing early wear-outdetection and preventing the passing of bad data as good
All flash cache data vault capable of surviving two key failures, ensuring that the system comes back even when something was broken before the vault and something else fails when returning from the power cycle
Support for thermal excursions with graceful shutdown if, for example, a datacenter loses air conditioning
Integrated data protection for Oracle, Microsoft SQL, Microsoft Exchange via Dell EMC ProtectPoint backup and rapid restore combines the gold standards in backup with industry leading SRDF replication technology
Symmetrix Remote Data Facility (SRDF)
The SRDF family of software is the industry gold standard for remote replication in mission-critical environments. Built for the industry-leading VMAX hardware architecture, the SRDF family of solutions is trusted globally for disaster recovery and business continuity. The SRDF family offers unmatched deployment flexibility and massive scalability to deliver a wide range of distance replication capabilities. It consists of the following options: SRDF/S (synchronous option for zero data loss), SRDF/A (asynchronous option for extended distances), SRDF/Star (multi-site replication option), SRDF/CG (consistency groups for federated data sets across arrays), and SRDF/Metro (for active/active datacenter replication).
Heterogeneous Replication (RecoverPoint)
Dell EMC RecoverPoint provides replication with multiple recovery points to restore applications instantly to a specific point in time, leveraging snapbased replication on VMAX All Flash. Applications are protected using asynchronous heterogeneous replication using DVR-like recovery across the Dell EMC block storage portfolio (VMAX/XtremIO/Unity/VNX). RecoverPoint minimizes network utilization with unique bandwidth compression and deduplication, significantly reducing network bandwidth consumption.
Future-Proof Loyalty Program
VMAX is part of the Future-Proof Loyalty Program, which is designed to provide investment protection with a set of world class technology capabilities and programs that will enable Dell EMC's Storage products to provide value for the entire lifetime of customers' applications. It is unique in that it is available to customers at no additional cost either in terms of higher maintenance price or higher product price. The Future-Proof Loyalty Program for VMAX consists of the following benefits: 3 Year Satisfaction Guarantee, 5:1 All Flash storage efficiency guarantee, Never Worry Data Migrations, Hardware Investment Protection, All-Inclusive Software and Clear Price Maintenance.
Specifications:
VMAX 250F/VMAX 250FX Specifications
V-Bricks
Number of V-Bricks
1 to 2
Engine Enclosure
4u
CPU
Intel Xeon E5-2650-v4
2.5 GHz 12 core 4
# Cores Per CPU/Per Engine/Per System
12/48/96
Dynamic Virtual Matrix Interconnect
Direct Connect InfiniBand
56 Gbps per port
Cache
Cache-System Min (Raw)
512 GB
Cache-System Max (Raw)
4 TB (with 2,048 GB engine)
Cache-Per Engine Options
512 GB, 1 TB, and 2 TB
Vault
Vault Strategy
Vault to Flash
Vault Implementation
2 to 4 NVMe Flash SLICs / Engine
Front End I/O Modules
Maximum Front-End I/O Modules/V-Brick
8
Front-End I/O Modules and Protocols Supports
FC: 4 x 8 Gbs (FC, SRDF)
FC: 4 x 16 Gbs (FC, SRDF)
10 GbE: 4 x10 GbE(iSCSI, SRDF)
GbE: 4 x 1 GbE(2 Cu/2 Opt SRDF)
eNAS I/O Modules
Max eNAS I/O Modules/Software Data Mover
3 5
eNAS I/O Modules Supports
10 GbE: 2 x 10 GbE Optical
10 GbE: 2 x 10 GbE Cu1
8 Gbs: 4 x 8 Gbs FC (Tape BU)2
eNAS Software Data Movers
Max Software Data Movers
4 (3 Active + 1 Standby)
(4 Data Movers requires minimum 2 V-Bricks)
Max NAS Capacity/Array (Terabytes Usable)
1158 (cache limited)
Capacity, Drives
Max Capacity per Array (Open)6
1.16 PBe
Base Capacity per V-Brick (Open)
13.2 TBu8
Base Capacity per V-Brick (Mainframe)
N/A
Incremental Capacity Blocks
13.2 TBu8
Max Drives per V-Brick
50
Max Drives per Array
100
Max Drives per System Bay
100/2007
Min Drive Count per V-Brick
8 + 1 Spare
Flash Drives
Flash Drives Supported (2.5")
960 GB, 1.92 TB, 3.84 TB, 7.68 TB, 15.36 TB
BE Interface
12 Gbps SAS
RAID Options Supported
RAID 5(7+1) (default)
RAID 5(3+1)
RAID 6(6+2)
Mixed RAID Group Support
No
Support for Mixed Drive Capacities
Yes
Flash Array Enclosures
120 x 2.5" Drive DAE
No
25 x 2.5" Drive DAE
Yes
Cabinet Configurations
Standard 19" bays
Yes
Single V-Brick System Bay Configuration
No (Packaging based on Dual V-Bricks, but initial V-Brick in each System Bay supported)
Dual V-Brick System Bay Configuration
Yes (Default packaging)
Third Party Rack Mount Option
Yes
Dispersion
Third Party Rack Mount Option
N/A-single floor tile system
Per-Configuration From Factory
100% Thin Provisioned
Yes
Host Support
Open Systems
Yes
Mainframe
No
Mixed Mainframe and Open
No
Power Options
Input Power Options
Single or Three Phase
Delta or Wye
I/O Protocols Supported
8 Gb/s FC Host/SRDF Ports
Maximum/V-Brick: 32
Maximum/array: 64
16 Gb/s FC Host Ports
Maximum/V-Brick: 32
Maximum/array: 64
16 Gb/s FICON Host Ports
Maximum/V-Brick: N/A
Maximum/array: N/A
10 GbE iSCSI Ports (Optical)
Maximum/V-Brick: 32
Maximum/array: 64
10 GbE SRDF Ports (Optical)
Maximum/V-Brick: 32
Maximum/array: 64
GbE SRDF Ports (Optical/Cu)
Maximum/V-Brick: 16/16
Maximum/array: 64
Embedded NAS ports
10 GbE Optical Ports
Max ports/Software Data Mover: 4
Maximum ports/array: 16
10 GbE Copper Ports
Max ports/Software Data Mover: 4
Maximum ports/array: 16
8 Gb/s FC Tape Back Up Ports
Max ports/Software Data Mover: 2
Maximum ports/array: 8
Physical Specifications
System bay, dual engine
Height: 75 inch / 190 cm
Width: 24 inch / 61 cm
Depth: 42 inch / 106.7 cm
Weight: 850 lbs / 385 kgs
System bay, dual engine, dual system
Height: 75 inch / 190 cm
Width: 24 inch / 61 cm
Depth: 42 inch / 106.7 cm
Weight: 1410 lbs / 640 kgs
Input Power Requirements - 3-wire connection (2 L and 1 G)9
Input nominal voltage
200 – 240 VAC +/- 10% L- L nom
Frequency
50 – 60 Hz
Circuit breakers
30 A
Power zones
Two
Power requirements at customer site (min)
One 30A or 32A, single phase drop per zone (250F)
Three 30A or 32A, single phase drops per zone (950F)
Two power zones require 2 drops (250F), 6 drops (950F) with each drop rated for 30 or 32A
Three-phase Specification - 4-wire connection (3 L and 1 G)9
Input voltage10
200 – 240 VAC +/- 10% L- L nom
Frequency
50 – 60 Hz
Circuit breakers
50 A
Power zones
Two
Power requirements at customer site (min)
Two 50 A, three-phase drops per bay
Flash drive support
Platform Support
VMAX 250F
Nominal capacity (GB) 11
960
1920
3840
7680
15360
Type
Flash
Flash
Flash
Flash
Flash
Average seek time (read/write ms)
N/A
N/A
N/A
N/A
N/A
Raw Capacity (GB) 13
960
1920
3840
7680
15360
Open systems formatted capacity (GB)
938.94
1879.64
3761.03
7522.06
15047.65
Mainframe 3390 formatted capacity 12
940.26
1880.52
3761.80
7523.61
15047.98
Power consumption and heat dissipation at <26 and >35 degrees C
Component
VMAX 250F/FX
Maximum power and heat dissipation at temperatures <26° C and >35° C 15,16
Maximum Total power consumption (kVA)
Maximum Heat dissipation (Btu/hr)
<26

°

C
>35

°

C
<26

°

C
>35

°

C
System bay 1, dual engine
4.13
5.19
14,090
17,698
System bay 2, dual engine 14
N/A
N/A
N/A
N/A
1 Quantity one (1) 2 x 10 GbE Optical module is the default choice/Data Mover.
2 Used to support NDMP Tape Backup
3 Support for 8 Data Movers on the VMAX 950F/FX is available by request.
4 CPUs run in Turbo Mode except at elevated ambient temperatures.
5 Two eNAS I/O modules/Datamover standard. Three can be supported depending on configuration via RPQ.
6 Max capacity per array based on over provisioning ratio of 1.0.
7 00 drives can be supported in a single cabinet when two systems are packaged in the same rack.
8 13.2TBu V-Brick and Capacity Block usable capacities are based on RAID 5 (7+1). 11.3TBu base capacity and Capacity Block increments possible with RAID 5(3+1) on VMAX 250F
9 L = line or phase, N = neutral, G = ground
10 An imbalance of AC input currents may exist on the three-phase power source feeding the array, depending on the configuration. The customer's electrician must be alerted to this possible condition to balance the phase-by-phase loading conditions within the customer's data center
11 V-Bricks and capacity upgrades in any given configuration could contain a maximum of two different underlying drive sizes in order to best achieve the desired usable capacity. This is automatically optimized by the VMAX Sizer Tool.
12 Mainframe is not supported on VMAX 250F.
13 Open systems formatted capacity is also referred to as TBu in this document.
14 Power values for System Bay 2 and all subsequent system bays where applicable.
15 Power values and heat dissipations shown at >35 degrees C reflect the higher power levels associated with both the battery recharge cycle, and the initiation of high ambient temperature Adaptive Cooling algorithms.
16 Values at <26° C are reflective of more steady state maximum values during normal operation.
Dell Storage Products
Dell EMC All Flash Mission-Critical Storage
Dell EMC VMAX 250F All Flash Mission-Critical Storage
#VMAX-250F
Get a Quote!