Dell Management Solutions

Help tame the complexity of your IT infrastructure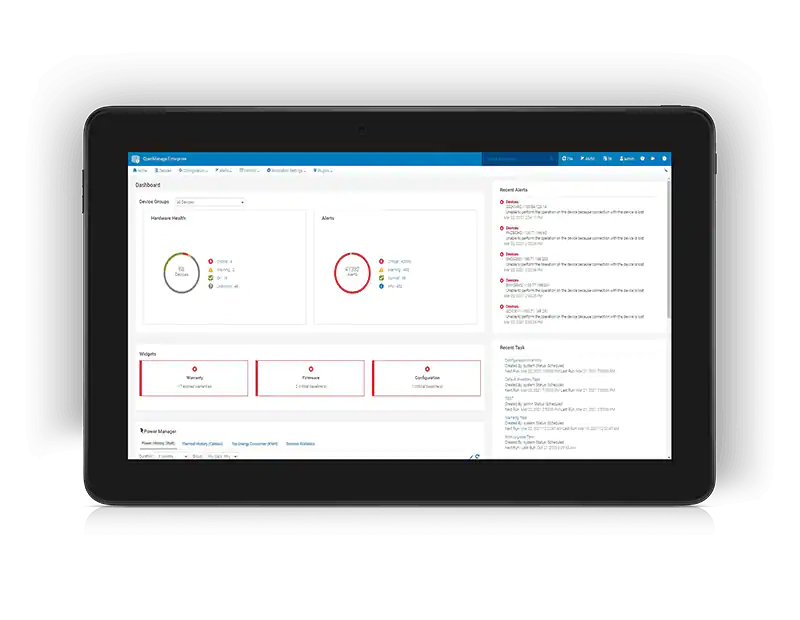 Dell Storage Products
Dell Products
Dell PowerEdge Management Solutions
#Management-Solutions
Get a Quote!
OpenManage systems management portfolio
Solutions to help you to discover, monitor, manage, update, and deploy your PowerEdge infrastructure.

Dell EMC OpenManage Enterprise
Next-generation systems management console that enables centralized management of your PowerEdge infrastructure.

Integrated Dell Remote Access Controller
The iDRAC provides comprehensive, embedded management across the PowerEdge family of servers.

Dell EMC OpenManage Mobile
Modernize your data center with secure mobile technology

Dell EMC OpenManage Enterprise Power Manager
Enhance visibility and control of your server power consumption.

Dell EMC OpenManage Embedded Technology
Operate agent-free for powerful server management.

Dell EMC SupportAssist Enterprise
Automated proactive and predictive support technology.

OpenManage Integrations, Connections and RESTful APIs
The OpenManage Ecosystem Portfolio delivers a seamless full-stack management experience.

Dell EMC OpenManage Secure Enterprise Key Manager
The OpenManage Secure Enterprise Key Manager enables effective data protection on a secure and solid foundation.

Dell Technologies Secured Component Verification
Secured Component Verification ensures that PowerEdge servers are delivered and ready for deployment.

UEFI Secure Boot Customization
Strengthen your server infrastructure's resiliency and protect against boot-related exploits today and in the future.

Dell EMC CloudIQ
One cloud-based portal for monitoring PowerEdge servers with Dell EMC networking, storage and data protection systems across all your locations.
Simplify, automate and optimize your IT operations
Modern IT infrastructures are powerful and flexible, yet, often complex and challenging to manage. The Dell EMC OpenManage systems management portfolio helps tame the complexity of your IT infrastructure with intuitive tools that work together to deliver automated, repeatable processes, based on your unique policies, enabling effortless management.
IT management for any environment
Manage Dell EMC PowerEdge servers in virtual, physical, local and remote environments, with or without a systems management software agent.
Accomplish more with intelligent automation
With automation tools integrated across the OpenManage solutions portfolio, your systems can work for you so you can accomplish more.
Manage with clarity
Modern, intuitive interfaces display real-time health and status of your server infrastructure and provide the information you need to make critical decisions.