Dell EMC Isilon H600 Hybrid NAS Storage

Unstructured data storage made simple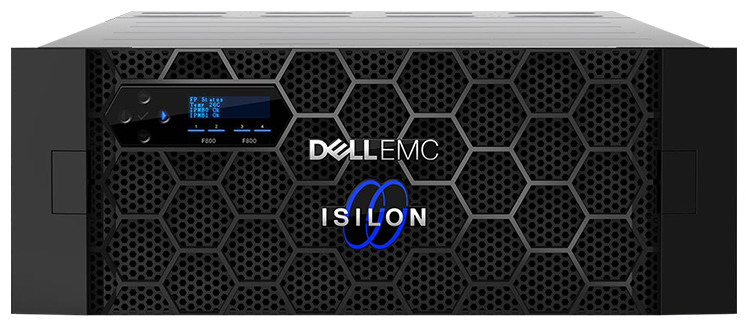 Sorry, this product is no longer available, please contact us for a replacement.
Overview:
Delivers up to 120,000 IOPS and 12 GB/s throughput per chassis
Accelerates performance with 4 to 8 flash SSDs for caching
Stores 72 TB to 144 TB per 4U chassis
Increases efficiency with over 80% storage utilization
Ensures reliability and security with resilient design and robust data protection options
Protects investment with the Future-Proof Loyalty Program (support agreement required)
Harness the power of Dell EMC Isilon H600 hybrid scale-out NAS to enable a wide range of high-performance computing (HPC) file workloads on a single platform. Be ready for the demands of unstructured data environments with the performance of 120 SAS drives, SSD caching, and built-in multiprotocol capabilities.
Realize greater value from your storage resources with automated, policy-based storage tiering between chassis and cloud storage integration. Expand capacity and performance predictably, without disruption, simply by adding a new chassis to your Isilon cluster. Management stays simple as you grow because of the single file system, single-volume architecture, and automation features of the Isilon OneFS operating system.
Dell EMC Isilon Hybrid Platforms
Dell EMC Isilon hybrid storage platforms, powered by the Isilon OneFS operating system, use a highly versatile yet simple scale-out storage architecture to speed access to massive amounts of data, while dramatically reducing cost and complexity. Isilon hybrid storage is highly flexible and strikes the balance between large capacity and high-performance storage to provide support for a broad range of enterprise file workloads. Isilon hybrid storage is available in 3 product lines:
EMC Isilon H400: Provides a balance of performance, capacity and value to support a wide range of file workloads. Isilon H400 delivers up to 3 GB/s bandwidth per chassis and provides capacity options ranging from 120 TB to 480 TB per chassis.
Dell EMC Isilon H500: This versatile hybrid platform delivers up to 5 GB/s bandwidth per chassis with a capacity ranging from 120 TB to 480 TB per chassis. An ideal choice for organizations looking to consolidate and support a broad range of file workloads on a single platform.
Dell EMC Isilon H5600: Combines massive scalability – 800 TB per chassis – and up to 8 GB/s bandwidth – in an efficient, highly dense, deep 4U chassis. The Isilon H5600 is designed to support a wide range of demanding, large-scale file applications and workloads.
Dell EMC Isilon H600: Designed to provide high performance at value, delivers up to 120,000 IOPS and up to 12 GB/s bandwidth per chassis. Ideal for high performance computing (HPC) workloads that don't require the extreme performance of all-flash.
All Isilon hybrid storage platforms are powered by the Isilon OneFS operating system and use a dense, modular architecture to provide a powerful, yet simple scale-out storage platform to speed access to unstructured data, while reducing cost and complexity. Isilon hybrid storage systems integrate easily with Isilon all-flash and Isilon archive systems as well existing Isilon clusters.
Efficiency: Isilon scale-out storage delivers over 80 percent storage utilization versus about 50 percent for traditional platforms. Isilon SmartDedupe data deduplication software enhances storage efficiency to reduce your physical storage requirements. Isilon's policybased, automated tiering options, including Isilon SmartPools and CloudPools software, allow you to optimize storage resources and further lower costs.
Flexibility: Isilon storage solutions supports all major protocols and data access methods including NFS, SMB, HDFS, HTTP, and FTP. This means that you can support a wide range of applications and workloads on a single Isilon platform.
Data protection: Isilon storage is highly resilient and offers N+1 through N+4 redundancy. With Isilon you may also choose from a variety of efficient and proven enterprise data backup and disaster recovery options.
Security: Isilon offers a broad range of security options including FIPS 140-2 level 2 self-encrypting drives, role-based access control (RBAC), secure access zones, SEC 17a-4 compliant WORM data immutability, and file system auditing.
Essentials
Simple storage and data management designed for ease of use
Massive scalability of capacity and performance
Unmatched storage efficiency, deduplication and compression to reduce costs
Choice of All-Flash, Hybrid or Archive nodes
Automated tiered storage to optimize resources
Seamless cloud integration to lower costs
Multiprotocol support for operational flexibility
Resilient data protection for a highly available environment
Robust security and compliance options
Unlock your data capital with inplace data analytics

Pricing Notes:
Pricing and product availability subject to change without notice.